We organize homebuilding courses
---
A lot of people want to take part of an homebuilding course, in the aim to make a good beginning in their balloon project.
---
Back to the previous page.

Same page in French (with more infos, dates for next courses...)

Our team
Our teaching team is very competent in balloon building project :
| | |
| --- | --- |
| Arnaud Deramecourt | Practices ballooning since 1993. Pilot, instructor, instructor for instructors. He has built two balloons (1600cu.m and 3000cu.m), and took part in the building process of an ultra-light 1900cu.m. Has built a model balloon to. Has worked for a professionnal balloon manufacturer. Teach courses in the French "Ecole Nationale de l'Aviation Civile" (ENAC). Consulting for the DGAC (Direction Generale de l'Aviation Civile) about balloon mechanical calculation. Ingineer in the French Spatial Agency (CNES), in the balloon division (designer of scientific balloons). Teach in homebuilding courses since 2000 in France. Personnal current projects : hot air airship, small gas airship and gasballoon. Editor of the "French homebuilding magazine" since 1997. |
| Other people | We ask the best specialists to teach during our courses. |

Our competences in the teaching field are well-known : courses in university, ingeneer school...
---
Courses
We organize two kinds of courses :
synthetical group course : The course includes a very comprehensive theorical part, explaining a project, from A to Z, and a pratical part, which offers the possibility for everyone to discover the cutting, the sewing, the wickerwork... The meeting of people who have build or who are in the way to built allows to provoke interesting debate. This course is for you if you want to built, or if you just want to have a better knowledge ! During this course, you will discover all the subjects. However, the duration does not allow to go deeply in theses subjects. 15 to 25 people take part in this stage, on a whole week-end.
personalized course : Subjects presented before are very deeply traited, depending on the whishes of the people. E.g., it is possible to perform the cutting of an enveloppe, to sew a good part of a balloon, make the stress and shape calculation, fill the administrative matter... It is a fully personalized course, for few persons (2 to 6). Duration is between 2 and 7 days, depending on the traited subjects.
Courses are organized in french or english, depending on the participants.
---
Means
For synthetical group courses, the location depends of the year. We use a teaching room, a gymnasium, a club-house... There systematically are a sewing-machine and a cutting table.
For personalized courses, the location is Baziège. Three double needle sewing machine, a cutting room with a cutting table, a teaching room with videoprojector and computer.
---
Next stages
Next synthetical group courses will take place in the Center of France, in 2007, 24th and 25th march (french language).
Next synthetical group courses in english language will take place in Baziege, near Toulouse in november 2007.
Next personalized courses will take place in Baziège on demand (english or french).
---
Prices
synthetical courses : this course is organized by MFR. In 2006, for the course in french language, price was 80 euros for a MFR member (or a young under 25 years), 150 euros for a non-member. For courses in english language, price is 150 euros (due to the small number of those taking part in).
personalized courses : this course is organized by MFR. Price is 150 euros/day/participant. There is a very sympathetic inn at less than five kilometres.
Prices include papers, materials to test yourself in sewing, wicker to test yourself in basket making. Prices include lunch but not breakfast nor dinner nor nights in hotel.
---
You want more informations, or inscribe for a course ?
Please contact us, by mail or phone :
Arnaud Deramecourt
Arnaud.Deramecourt_(at)_m4x.org
tél : (+.33).(0)6.37.62.31.17
mobile : (+33).(0)6.37.62.31.17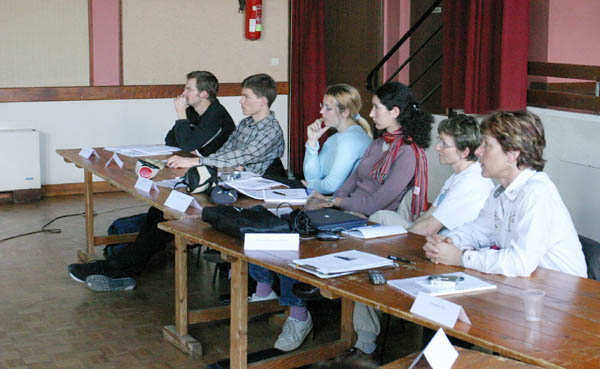 Retour à la page précédente.
---
Arnaud Deramecourt
The addrress of this page is : http://aerostation.free.fr/mfr/en/mfr_11.shtml
Last update 19/11/2010